Rivers Alliance of CT Home Page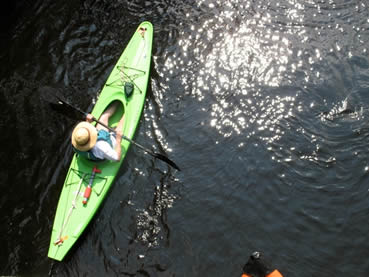 Contact Us
P.O. Box 1797
Litchfield, CT 06759
860-361-9349
rivers@riversalliance.org
WHAT IS A WATER TRAIL?
---
---
Formal Water Trails
The American Canoe Association (ACA) defines a "water trail" as meeting the following five requirements:
The trail must be a contiguous or semicontiguous waterway or series of waterways that is open to recreational use by paddlers.

The trail must have public access points for paddlers.

The trail must be covered by a map, guide, signage, or website that is of reasonable quality and detail and available to the public.

Published or printed materials for the trail (e.g., guidebook, map, sign, website) must communicate low-impact ethics to trail users.

The trail must be supported and/or managed by one or more organizations.
The Rivers Alliance of Connecticut, in partnership with the American Canoe Association, the National Park Service, American Rivers, the Appalachian Mountain Club, and the Connecticut Department of Energy and Environmental Protection, is committed to helping existing and future water trails to fulfill the American Canoe Association's water trail requirements. Trails meeting those requirements are eligible to receive the coveted ACA-Recommended Water Trail designation.
Informal Water Trails
Besides the formally designated water trails, there are many other places to paddle on Connecticut's rivers, lakes, ponds, streams, and Long Island Sound. Click here for our water trails map.
Do you know of a water trail not included on this website? Send us an email and tell us the name of the trail, where it is located, a trail website address, and who to contact for more information.